Team Driving
Expand your horizons
If you love life on the road but you'd like to run more miles and make more money, working as part of a driving team may be the answer. Let's take a look at how they work at Swift and what you need to know about joining one.
Notice: To prevent the contamination and spread of COVID-19, we've included a number of onboarding driver precautions, visit our COVID-19 resource page for more information.
What does it mean to drive as a Team?
Truck driving teams are made up of two people who share driving and other responsibilities related to their freight. At Swift, our teams run on accounts that are time sensitive and have more distant routes when compared to solo drivers. So, while one driver is "on duty" and driving, the other driver is "off duty" and sleeping – making it possible for a team to cover more miles in less time than a solo driver. 
Types of Teams
With Swift's expansive and diverse customer base, we offer plenty of Team driving opportunities that fit your needs. These include: 
Expedited Teams
Run 4,500 miles per week on average
Highest earning potential
Typically 2 experienced drivers (6 months of experience or more)
Freight is typically very time-sensitive (just-in-time freight)
Customers include major online retailers, health, and retail
On-time service is highly critical
Dedicated Teams
Run 4,000-5,000 miles per week
Consistent and predictable home time 
Mid-high earning potential (varies by account)
Typically 2 experienced drivers or 1 new driver with an experienced driver
Customers include major retailers and home improvement retailers 
And if you want to drive team, but do not necessarily want to run a high amount of miles every week, we have dedicated opportunities that fit those needs! Think of them as a more relaxed team, who enjoy traveling and making money while doing it. The miles per week are flexible to what you and your teammate are comfortable with.
Run less than 800 miles per day 
Typically a couple or two friends who are looking to see the country and drive together 
Freight includes next day delivery, overnight loads, and out-and-back runs
Consistent and predictable home time
Who Can be Part of a Team?
As long as both drivers have a Class A CDL, they can be part of your driving team. Just a few possible combinations for teams include:
Husband and Wife
Friend and Friend
Parent and Child
Siblings
Former Classmates (from your CDL Academy)
Owner-Operator teams²
New Swift drivers: Please note that we don't assign team members, so you'll have to choose your partner before being hired as a team. 
Current drivers: For more information on our husband-and-wife team truck driving jobs, to start a team with a friend or one of your employees, or for ideas on how to develop your own partnership, talk to Swift's driver placement team at 866-588-5264.
Team Truck Driving Rules
The Federal Motor Carrier Safety Administration (FMCSA)1 requires team drivers to spend 8 consecutive hours in their sleeper berths, but also allows team members to rest for 2 additional hours in the passenger seat while the vehicle is moving. This way, each driver gets 10 hours of rest even while their truck is moving. (Note: If a driver spends more than 2 hours in the passenger seat, that time should be properly logged as on-duty (not driving) time.)
Drivers are allowed to switch back and forth from on duty to off duty until either driver reaches the maximum limit of 60 or 70 hours on duty in any 7- or 8-day period. 
Team Drivers Salary Info
When you're part of a team, your truck driving salary will increase because the truck can be active longer – and if you're an OTR team driver, your salary can nearly double. Currently, we have OTR teams that drive:
Dry Vans

Reefers

Flatbeds

Dedicated
In general, team drivers can expect to receive an average annual salary (per driver) of $61,156-$71,383 ($1,210-$1,419 weekly). However, for information on what your team salary may be for a specific route, please talk to your driver leader or a Swift recruiter. Additional salary information by line of business can be found on our Salary page.
Getting Started
Driving as part of a team can be an incredibly rewarding experience – in terms of your paycheck and your life. With the chance to spend time with someone you care about, do a job you love and make a good living, it can be a dream for someone who enjoys life on the road. 
If you're ready to become a team driver at Swift, choose your teammate and call 888-871-3537 . 
1https://www.fmcsa.dot.gov/sites/fmcsa.dot.gov/files/docs/Drivers%20Guide%20to%20HOS%202015_508.pdf. See section titled "On-Duty Time In a Commercial Motor Vehicle".
² Contact the Owner-Operator team for additional details.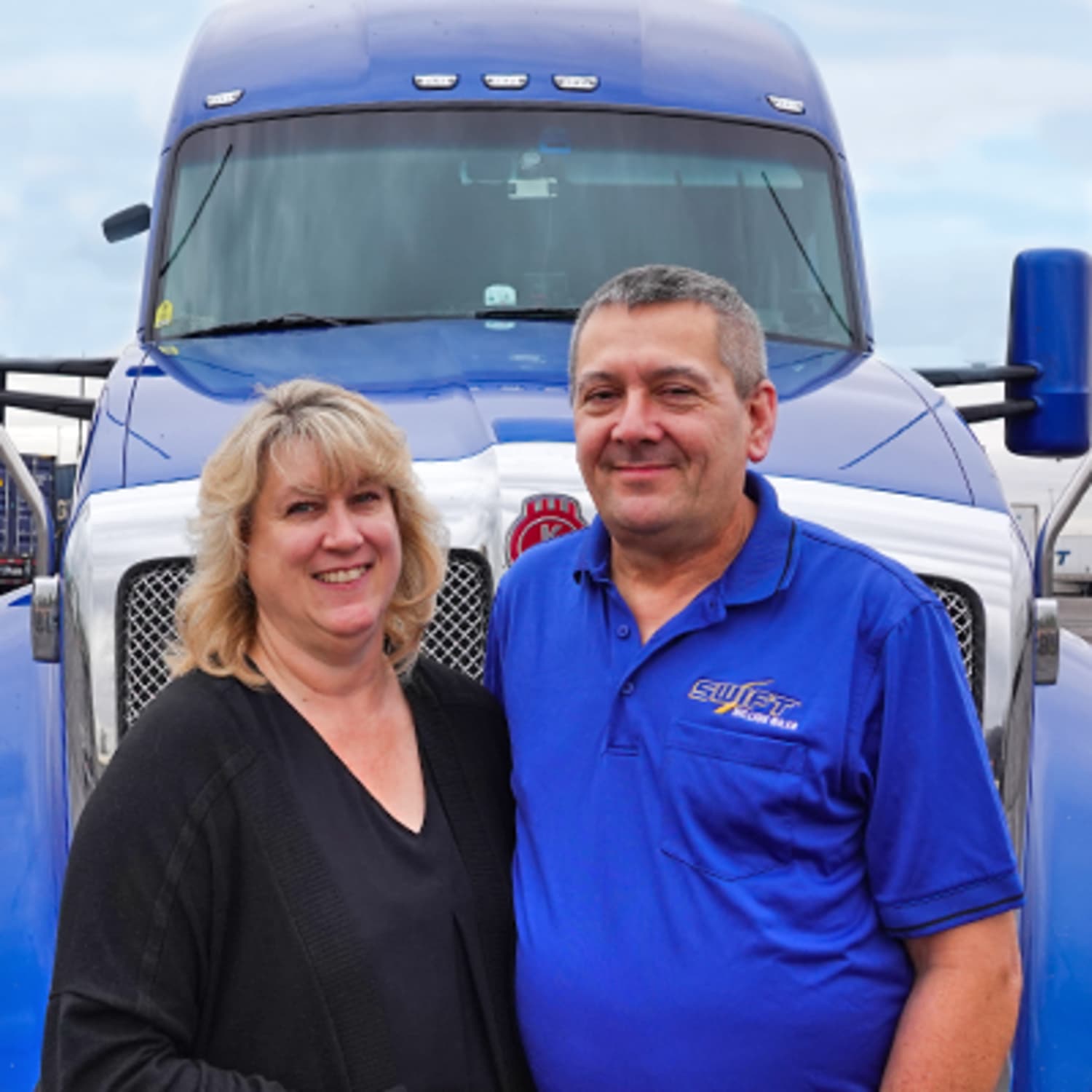 Hear From Our Drivers
I enjoy team driving with my wife. With a team, you get a lot of opportunities. Swift keeps you stacked up and moving.
Vernon P.